Marikina River Resiliency Plan
Year: 2017
Location: Manila, Philippines
Project Leader: Khyati Saraf
Status: Metro Manila Civic Innovation Fellowship, Concept


Marikina City is one of the most progressive Mayoral offices in Metro Manila. As the Metro Manila Civic Innovation Fellow, in September 2017, Khyati had the opportunity to participate in a 2 week intensive on-site program designed to connect young experts with local government agencies and decisions makers to bring new ideas and create impactful innovation in Marikina City.
As a landscape architect tasked with addressing the monumental issue of flooding of Marikina River and Marikina City's most precious civic amenity, the widely used River Park, the issue seemed too large to be addressed in a matter of two weeks. Flooding is an everyday reality in tropical Philippines. A low lying archipelago nation - a conglomerate of 7000+ islands - tidal, seasonal and climatic variations in water levels are a constant preoccupation. Historically, the shoreline has been a blurry zone for Filipino's. That indeterminacy, a way of life.
In today's concrete metropolis, especially one as heavily and densely populated as Manila, even average precipitation causes disruptions to everyday life as natural watersheds are increasinly damaged and built infrastructure unable to handle current day capacities. Certainly, this is not an issue in Metro Manila alone and not one that can be solved in a fortnight. However, engaging and educating decision makers directly on alternate methods of flood mitigation has been a critical method to impact the trajectory of development and policies in Marikina City.
Studying the issues of flooding in Marikina city as a whole as well as providing a resiliency plan for Marikina River Park, Khyati had the opportunity to surgically redesign and create a holistic ecological framework plan along with inform planning policies for the city of Marikina.
The project culminated in a presentation to Mayor Marcelino Teodoro and his team - with implementable strategies and a series of operations and procedures outlined as long /short term and as high / low investment models. Two tactical civic outreach and engagement experiments were also explored - 1. 'The Wall' and 2. 'The Map'.

Part I. The Wall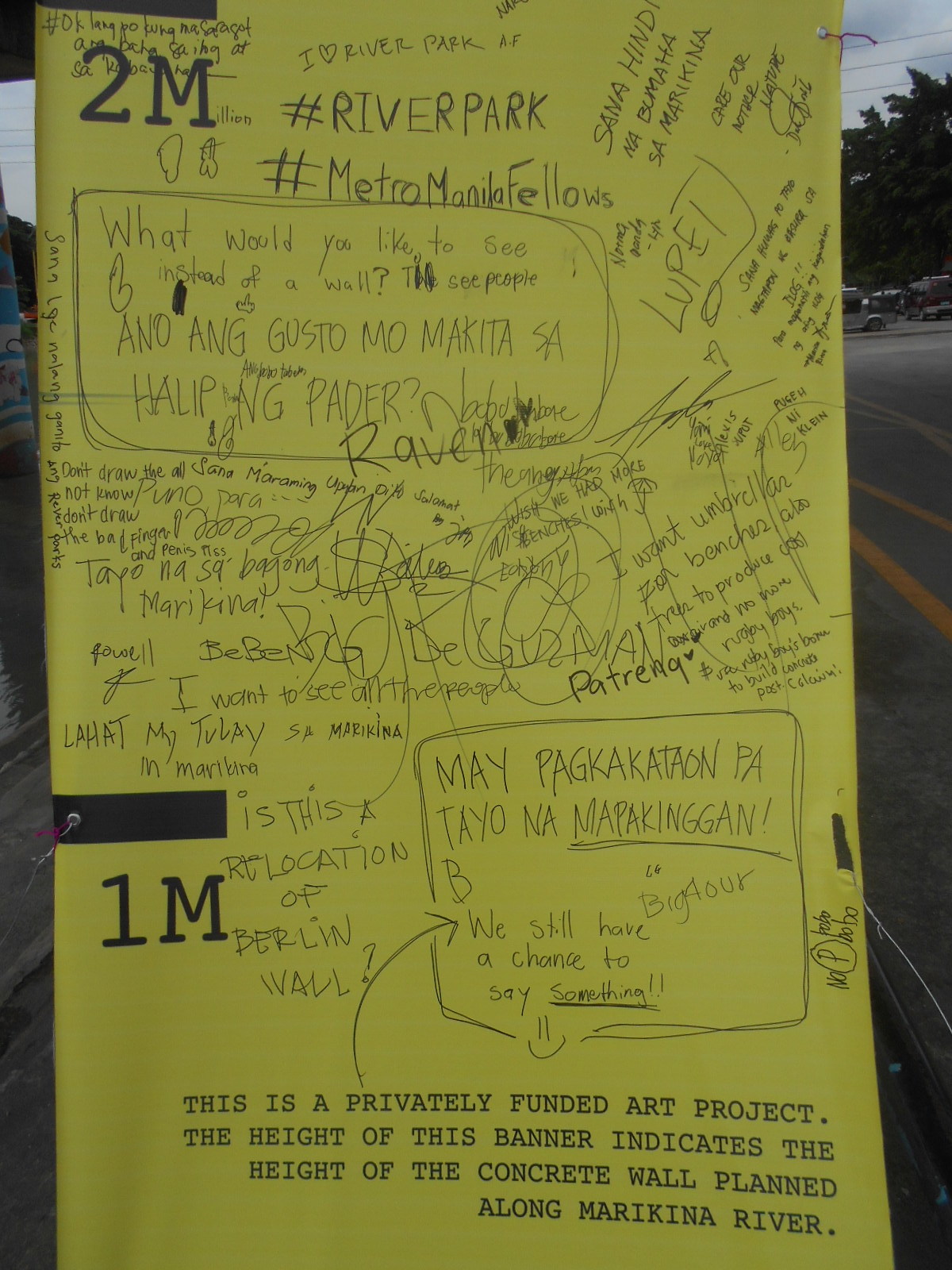 Part II. The Map
An invaluable amenity to the the city of Marikina, the River Park is the only open public space available for leisure and recreation in Marikina. In an effort to garner public attention from local + Metro Manila residents and from tourists alike, this simple pamphlet has been designed as an awareness and a way-finding tool. The park in its present state offers many amenities, however, the work and capital the city allocates for the park is largely unrecognized. This pamphlet is a means to solidify the identity and the agency of the park - to create a park that the city of Marikina is truly proud of.